Who ordered it and why?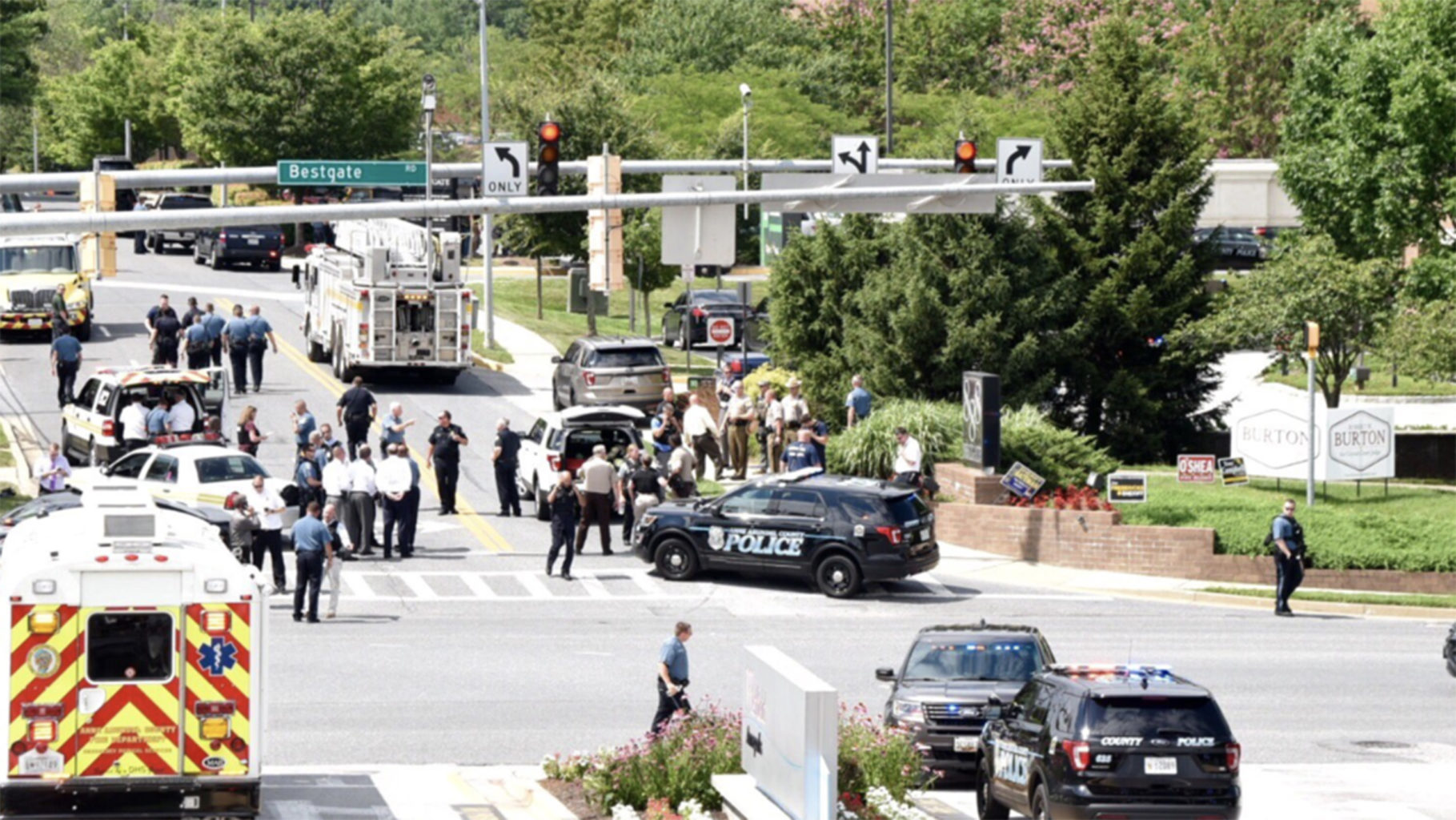 TMR Editor's Note:
There's no question that the slaughter at the Capital Gazette newspaper in Annapolis was a terrorist attack.  Everything points to a Gladio-style false flag mass shooting; the very same type of attack that has been executed across the nation for decades.  The American people have even been warned of this 2018 wave of terrorism by a whistleblower / insider as follows:
---
---
Really, who walks into a newspaper office, not far from the nation's capital, with shotguns blazing except a CIA MK-Ultra mind-controlled individual who is under the influence of psychotropic drugs and who has been triggered to do so by their court-appointed mental health professional.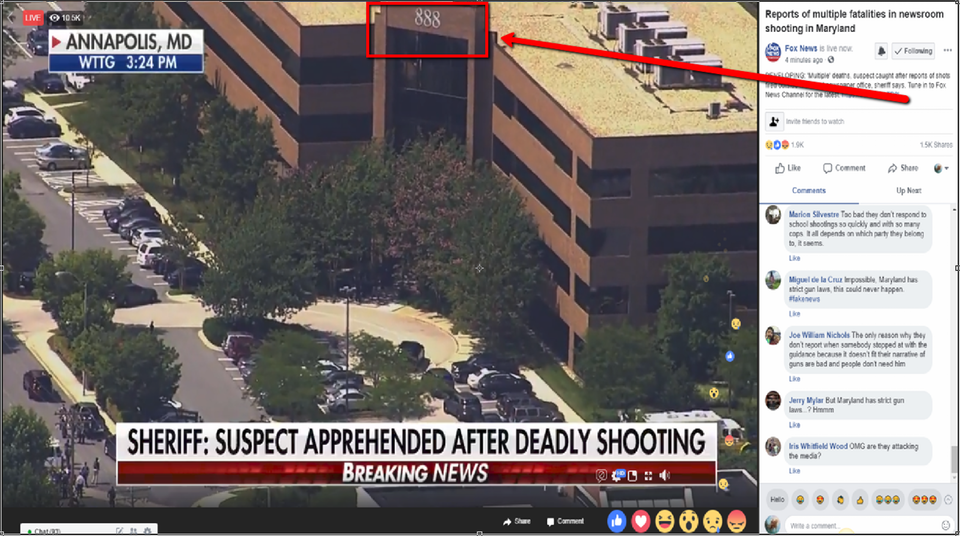 Of course, even the building's numerology offers a clue.   "888" seems to be an Illuminati number that possesses all sorts of occult meaning.  What that is exactly will likely emerge in the days ahead.
Let's face it, the "Summer of 2018" has been identified by the Purple Revolutionaries as the summer from hell for the Trump administration (as well as for the patriot movement).  The unhinged Left has collectively determined that the midterm election season must be hijacked by every means possible.  Soros & Company has issued marching orders to the left-wing Bolsheviks that Trump must be denied a favorable election by any means possible.  However, the ultimate objective of these brainwashed and fanatical communists is much more consequential.  As follows:
---
---
In light of this fast-moving ultra-Liberal juggernaut, it does appear that this mass shooting in Annapolis, Maryland was designed to exacerbate the highly polarized political tensions throughout the country.   The Capital Gazette is located just a stone's throw from Washington, D.C. as seen in the map below.  Only 25 miles from being inside the Beltway cannot be a coincidence for this senseless but quite purposeful massacre.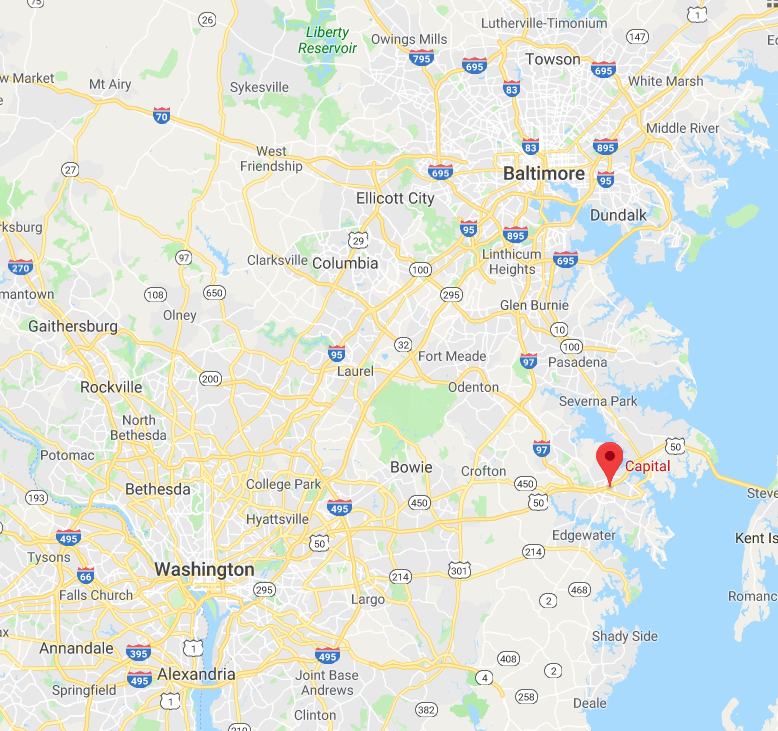 What better way to intensify the ongoing Right-Left conflict that is occurring nationwide than to attack a newspaper office in such a shocking and  barbaric way.  Isn't this exactly what Operation Gladio has done throughout Europe, the Middle East and the United States since NATO formerly established it as the terrorist arm of the North Atlantic Terrorist Organization?
---
KEY POINT:  What better way to  galvanize journalists across the nation to demanding new gun control legislation than to stage a mass shooting at a newspaper.  You can hear them now clamoring for draconian gun laws to protect innocent liberal reporters everywhere.  That the state of Maryland was chosen as the site of this terrorist operation is also no surprise.  Given it's close proximity to D.C., the home of so many politicos and power-brokers, it was only a matter of time before they carried out a false flag shooting to unconstitutionally remove firearms from Maryland residents.
---
Lastly, how convenient for the gun control advocates that the Annapolis shooter is "a white male in his 30s who tried to obscure his fingerprints".   Really, the only mass murderers who try to obscure their fingerprints are those who have been given orders to by the Gladio handlers.
---
Special Note: Each and every Gladio terror operation is pre-planned well in advance of its execution.  The U.S. Intelligence Community has countless false flag terror attacks "in a box and on a shelf" ready to be implemented on a moment's notice.  When the C.I.A. presses the button, the black ops crew springs into action closely coordinating with the FBI, local law enforcement and the mainstream media. (This is why the MSM always reports a perfect story explaining why the terrorist(s) was just so angry at his victims.)  The plotters at the peak of the Operation Gladio decision-making pyramid are so far removed from the perpetrators as to be practically anonymous.  This means that the real co-conspirators who ordered the hit are even further removed from the scene of the crime. See: "FALSE FLAGS" are LEGAL PROPAGANDA Produced by the Department of Defense
---
Conclusion
The fact that a city newspaper was attacked in the greater D.C. area is quite telling and of paramount importance.  This massacre was clearly undertaken with purposeful design.  Donald Trump himself has said on numerous occasions that the mainstream media is the enemy of the people… and they certainly are.
Now that gun violence has been directed right at a local newspaper, the MSM will attempt to blame Trump as the Reuters global editor just did.  This is exactly where this evolving scenario was meant to go.  The MSM corporate bigwigs will no longer tolerate Trump's tweeted truth about their nonstop "fake news" being trumpeted across the land. See: Reuters Blames Trump For Annapolis Shooting
Consequently, there are likely to be more of these staged shootings aimed at different news outlets and media operations.  Trump has done nothing to cause this situation except tell the hard truths that rightly humiliate CNN and MSNBC every week.  In reality, it's those who control the 6 major MSM corporations who then order these false flag shootings; then they blame Trump and use the carnage to pass strict gun control measures.
The Millennium Report
June 28, 2018
N.B. The following MSM article doesn't even provide basic details that would meet the minimum standards of professional journalism, as usual.  Hence, it appears that they are releasing as little info as possible since the breaking stories are when they inadvertently disclose truth.
---
Five dead, others 'gravely injured' in shooting at Capital Gazette newspaper in Annapolis
Kevin Rector
The Baltimore Sun
At least five people were killed and several others were "gravely injured" in a shooting Thursday afternoon at the Capital Gazette in Anne Arundel County, authorities said.
A shooter is in custody, police said. Police would not name the suspect or say what type of weapon was used.
Anne Arundel County Police initially confirmed about 3:15 p.m. that they were responding to an "active shooter" at 888 Bestgate Road, where the newspaper's offices are located. The Bureau of Alcohol, Tobacco, Firearms and Explosives also responded to the scene.
The Capital Gazette is owned by The Baltimore Sun.
Phil Davis, a Capital Gazette crime reporter who was in the building at the time of the shooting, said multiple people were shot, as others — himself included — hid under their desks. He said there was a lone male gunman.
"Gunman shot through the glass door to the office and opened fire on multiple employees. Can't say much more and don't want to declare anyone dead, but it's bad," Davis wrote on Twitter as he waited to be interviewed by police.
"There is nothing more terrifying than hearing multiple people get shot while you're under your desk and then hear the gunman reload."
In a subsequent interview, Davis said it "was like a war zone" inside the newspaper's offices — a situation that would be "hard to describe for a while."
"I'm a police reporter. I write about this stuff — not necessarily to this extent, but shootings and death — all the time," he said. "But as much as I'm going to try to articulate how traumatizing it is to be hiding under your desk, you don't know until you're there and you feel helpless."
Davis said he and others were still hiding under their desks when the shooter stopped firing.
"I don't know why. I don't know why he stopped," he said.
Police arrived and surrounded the shooter, Davis said. He declined to elaborate.
Authorities said police responded to the scene within a minute. "If they were not there as quickly as they were it could have been a lot worse," Annapolis Mayor Gavin Buckley said.
Agents with the ATF were on the scene in Annapolis to provide support to local law enforcement, said Amanda Hils, a spokeswoman for the federal agency. ATF can help with tracing weapons, conducting interviews and other assistance.
A White House spokeswoman said President Donald Trump was briefed on the shooting. Lindsay Walters, the spokeswoman, said "our thoughts and prayers are with all that are affected."
Gov. Larry Hogan, on Twitter, wrote, "Absolutely devastated to learn of this tragedy in Annapolis."
He said he was in contact with County Executive Steve Schuh, and that Maryland State Police were on the scene assisting county police.
"Please, heed all warnings and stay away from the area. Praying for those at the scene and for our community," he wrote.
House Speaker Michael E. Busch has represented Annapolis since 1987 and said The Capital is "the voice of the community."
Even with a shrinking staff, Busch said, "they knew the pulse of the community and had a lot of influence on what took place.
"This is a shocker," Busch said. "Over the years, a lot of these people become friends. They do their job, you do your job, and you respect them for it. A lot of good writers have come out of there."
"This is really something that is totally, totally shocking, that we don't know how to understand."
Sen. Chris Van Hollen wrote on Twitter, "My heart is with the families, friends, and loved ones of the victims as we learn more about this terrible situation. We must unite to end the violence."
Police were also at The Baltimore Sun newsroom in Baltimore. Police said there was no threat on the Sun, and that their presence was a precaution.
Baltimore Sun reporters Scott Dance, Doug Donovan, Tim Prudente, Justin Fenton and Erin Cox contributed to this article.
___
Five dead, others 'gravely injured' in shooting at Capital Gazette newspaper in Annapolis – Baltimore Sun
—
http://themillenniumreport.com/2018/06/annapolis-newspaper-massacre-was-this-another-gladio-style-false-flag-terrorist-attack-if-so-who-ordered-it-and-why/