Global Climate Change is increasing and intensifying rapidly … everywhere!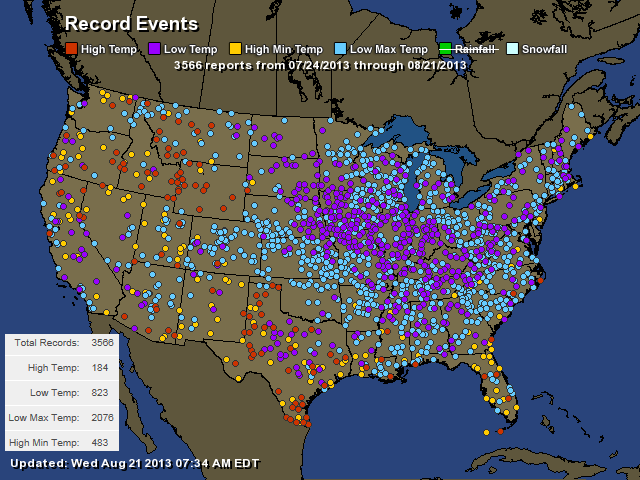 2899 Record cold temps vs 667 record warm temps in U.S. — From July 24 to August 19
Heat Wave: Death Valley hits 128 degrees — or is it 129?
In 2013, Texas Drought Could Be Worst Ever In Some Areas, Climatologist Says
Heat flow from Earth's mantle contributes to Greenland ice melting
North Pole Melting Leaves Small Lake At The Top Of The World

Weather radar shows giant 'storm' of dust, bugs in Texas
Winter Storm Nemo: Historic Blizzard Pounds New England
Monster Oklahoma tornado kills 51
El Reno tornado is 'super rare' national record-breaker
NYC and DC Face Power Outages, Water Restrictions in Soaring Heat
Summer 2013 weather extremes tied to extraordinarily unusual polar jet stream
Colorado floods: More than 700 evacuated in largest aerial rescue operation since Hurricane Katrina, officials say
Black Forest fire is worst in Colorado's history
Rim Fire Near Yosemite Ranks Among Top 3 Largest Wildfires in California History
South Dakota ranchers reel after 'catastrophic' storm leaves up to 100,000 cattle dead
Hurricane-force gusts batter UK, Europe; 13 dead, trees uprooted, travel chaos
Downtown Calgary Is Almost Entirely Under Water
Chaos as floods submerge Mexico's Acapulco, death toll rises
Floods encircle Thai industrial park; government says no repeat of 2011
Typhoon Hits Southeastern China
Cyclone Phailin is half the size of India and strengthening quickly as it heads for land
Japan's shocking, deadly deluge from Typhoon Wipha: 33 inches of rain in 24 hours
Powerful typhoon lashes Japan, floods force thousands to evacuate
Floods cover more than half of Philippine capital
Australia Wildfires: Nearly 100 Fires Rage Across New South Wales
Extreme Weather Grows in Frequency and Intensity Around World
2 Stunning Photos Catch Monster Thunderstorm's Approach
The photo was taken by Brian Johnson, a storm-chasing photographer, near Wichita, Kan., on May 30, 2012. Click on the image for a larger version.
The preceding headlines — from 2013 only — tell the story much better than we can.
The worldwide weather patterns have gone into a crash and burn mode, both literally and figuratively.  Every region of the world has now experienced a periodic and profound departure from their traditional weather norms since records have been kept. "Global Climate Change does not accurately describe the planetary predicament; an ongoing worldwide atmospheric apocalypse does … manifesting as localized weather cataclysms", as stated in the recent CCRG article on Global Warming.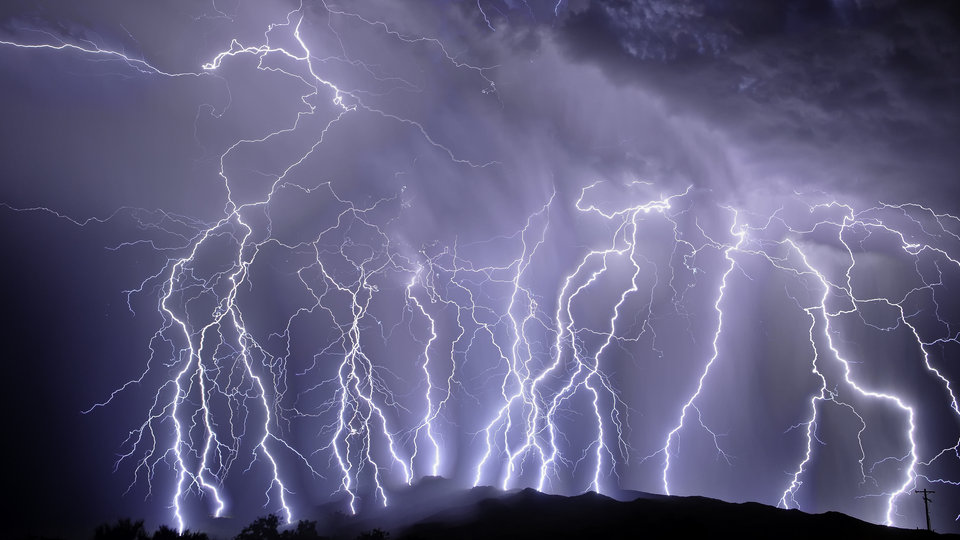 Positive Lightning Strikes Intensify As Cosmic Rays Increase
 Arc Lightning: Causing Massive Explosions, 'Earthquakes' and Destruction Worldwide
 Positive Lightning Strike, Tornado and Earthquake Swarms